-Description corrected at Doom of Valyria > 4 members needed.
-Notification to all at biologist quest Lv 94th added.
-Biologist quest Fixed a bug > No bonus was awarded on aborting the quest when selecting bonuses and could not be re-selected afterwards. Error now fixed.
-Current Event > An Advent Calendar brings you surprises every day for 24 days. You drop different items every day. Which are, you see, if you log in in the chat.
-Christmas event, Christmas decoration etc. will follow. Be curious!
-We welcome [TGM]Lucius and [TGM]Zykopania as the newest team member.
Please Patch!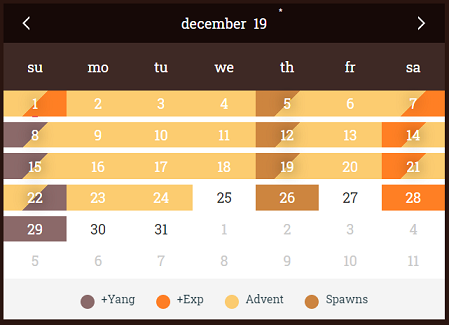 ---
Update 01.12 (German)
-Beschreibung bei Doom of Valyria korrigiert > 4 Mitglieder nötig.
-Benachrichtigung an alle bei Biologenquest Lv 94. hinzugefügt.
-Biologenquest Fehler behoben > Beim Abbrechen der Quest beim Auswählen der Boni wurde kein Bonus vergeben und konnte nachträglich nicht mehr gewählt werden. Fehler nun behoben.
-Aktuelles Event > Ein Adventskalender bringt euch 24 Tage lang jeden Tag Überraschungen. Ihr Droppt jeden Tag Alternativ unterschiedliche Items. Welche das sind, seht ihr, wenn ihr euch einloggt im Chat.
-Weihnachts-Event, Weihnachts-Deko etc. folgt noch. Seid gespannt!
-Wir begrüßen [TGM]Lucius und [TGM]Zykopania als neustes Teammitlied.
Bitte Patchen!